24/06/2020 12:57:01
CoJ draft budget ignores economic realities  

The City of Johannesburg (CoJ) needs to listen to its residents, reject the proposed tariff and staff salary increases in the face of the Covid-19-related economic meltdown and act in solidarity with cash-strapped city residents, says Organisation Undoing Tax Abuse (OUTA).


Thousands of public submissions made via the OUTA website to the COJ concerning the proposed 2020/21 draft budget, revealed overwhelmingly that city residents were against any tariff and property rates hikes, or increases in salaries for municipal staff and city councillors. 


In OUTA's own submission, the organisation called for a 0% remuneration increase and 0% tariff increase for the new financial year. OUTA called on CoJ to instead reduce its operating costs.


"The data is clear – the people disagree with large portions of the proposed budget. We live in a participative democracy. These residents are stakeholders in the municipalities and must be seriously considered before the budget is passed. Public input is the cornerstone of our democracy and should not be treated as a tick-box exercise and ignored," said OUTA project manager Tim Tyrrell. 


He said of further concern was the city raising the salaries of the mayor, speaker, and chief whip above the legal limit as prescribed by the Department of Cooperative Governance and Traditional Affairs in notice no. 475, Government Gazette 43246 of 24 April 2020.  


The budget makes provision for councillors and COJ staff to receive a 6.4% and 5.4% salary increase respectively.


"The CoJ spends more on the executive and council (R1.994 billion) than on community and social services (R1.805 billion), housing (R1.640 billion) or health (R1.340 billion). There should be no employee cost increases or remuneration increases in this time. Critical positions should be assessed to ensure that all critical services are rendered but no new positions should be filled at this time."


Tyrrell said what was worrying was that the period to comment on the draft budget, known as the Medium-Term Revenue and Expenditure Framework 2020/21-2022/23,  was only 25 days, closing on 23 June.


"It is unacceptable that the CoJ is giving the public less than 30 days to comment on what is arguably one of the most important budgets in recent times." 


"If the CoJ budget office does not listen to the public comments then it is up to the 270 councillors in the City of Johannesburg to decline these increases as a show of solidarity with the constituencies they serve in this trying time. The city must put its people first," said Tyrrell.
OUTA's full submission can be found
here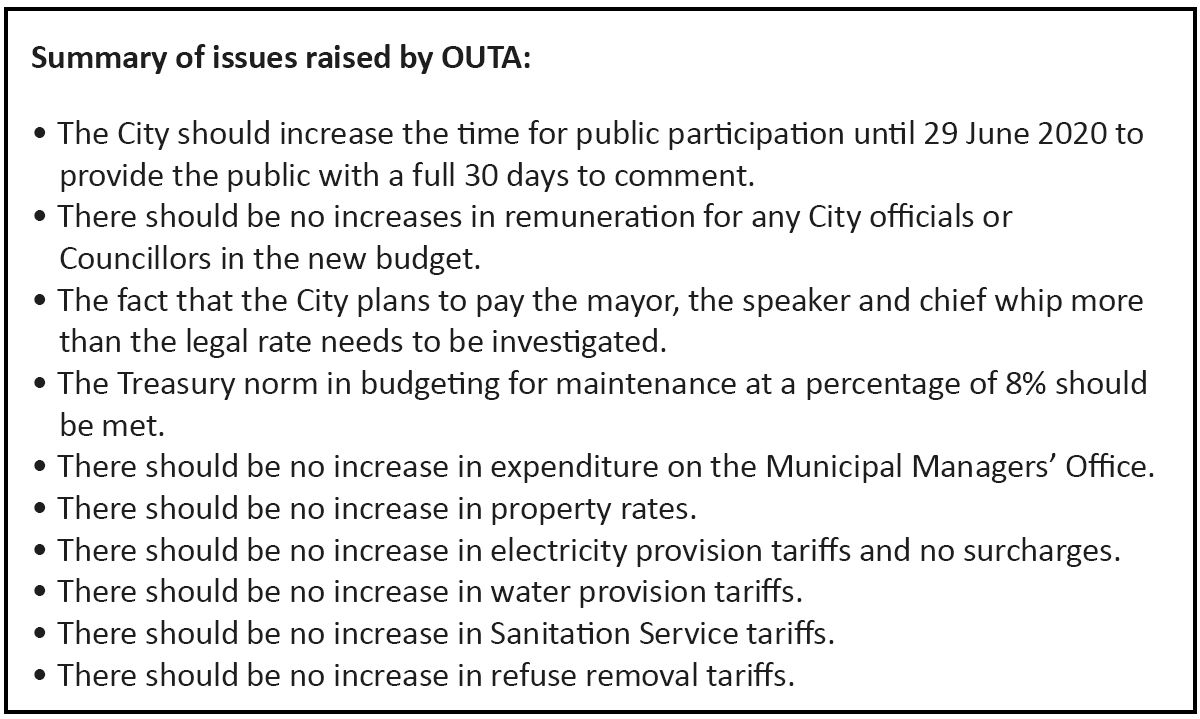 Picture: Flickr/South African Tourism