16/02/2023 06:45:29
.Image: Google Maps / NSFAS logo / Compilation by OUTA
NSFAS, what are you doing with student funds?
An OUTA investigation has found that the National Student Financial Aid Scheme (NSFAS) hired service providers without them having the required banking licences to pay out student allowances at excessive rates relative to the market. NSFAS also hired a business which provided cloth masks to National Treasury in 2020 to work on an ICT contract and has rented an expensive head office space while slashing the subsidies for student accommodation.
We believe these tender awards are irregular. We question whether awards such as these are unnecessarily draining NSFAS resources and contributing to its cuts to student subsidies.
The Special Investigating Unit (SIU) has since August 2022 been investigating NSFAS (the proclamation is here). We believe that these tenders should form part of the SIU investigation.
The three tenders
OUTA looked into three tenders:
SCMN022/2021: A five-year contract for the direct payment of NSFAS allowances to students, which OUTA believes could be worth at least R1.5 billion;

SCMN004/2021: A three-month contract to supply a digital tool to calculate student allowances; and

SCMN015/2021: The leasing of the NSFAS head office for two years, renewable for a further three years.
       OUTA started investigating the NSFAS tenders after a lengthy investigation into a large Services Sector Education and Training Authority (Services SETA) tender with the Grayson Reed consortium which we used to open a criminal complaint with the SAPS in November 2022 (see here). We found the service providers were linked to other tenders among the SETAs and NSFAS, and followed those links. The SETAs and NSFAS all fall under the Department of Higher Education and Training, and receive massive public funding. They all perform a crucial function in helping young South Africans to receive training and education and become employable.
"OUTA questions the value of these contracts, particularly in the light of the NSFAS reduction of subsidies for student accommodation," says Rudie Heyneke, OUTA's portfolio manager on this project.
Budget 2022 shows that NSFAS received R44.042 billion from the fiscus through the Department of Higher Education and Training for 2022/23 and projected that this would increase to R47.628 billion for the financial year starting in April.
The tender for paying NSFAS allowances to students
NSFAS hired businesses without banking licences or VAT registrations to make direct payment of student allowances which offer students more expensive accounts than what is available from four of the biggest commercial banks in the country.
See OUTA's table of comparisons below.
OUTA calculates that this deal could be worth as much as R1.5 billion over five years, just to provide students with access to a NSFAS bank card. This will be paid directly by the students out of their allowances, as the costs are deducted from their bank accounts. It is not known who will carry the costs for the manufacturing of the cards – NSFAS (the taxpayer) or the students (through direct debits on their accounts).
"OUTA's research shows that most of the commercial banks in South Africa offer accounts structured for students with very low banking fees and costs and substantially more value-added services than the approved service providers. NSFAS acknowledged that they must still negotiate with businesses to add value for students to their NSFAS bank cards, when all the banks already have these incentives in place," says Heyneke.
Two similar bids to facilitate direct payment of student allowances were advertised then cancelled. A third bid was advertised in 2021 and awarded to four newcomers in the payment solution sector, who had not bid in either of the first two tenders.
The four relatively new companies who were successful with their bids were: Coinvest Africa (registered in 2019), Tenet Technology (registered in 2013 but dormant until 2021), Norraco Corporation (registered in 2019) and Ezaga Holdings (registered in 2017).
At the time of their bid submissions only one – Ezaga Holdings – held an affiliated banking licence with Access Bank. A banking licence or affiliation with a bank with a banking licence was a compulsory bid requirement. Two of the successful bidders, Norraco Corporation and Tenet Technology, were also not registered as VAT vendors when they submitted their tenders. The four newcomers competed against established companies including the big four commercial banks for the bid: Nedbank, FNB, Standard Bank, Absa and MTN all submitted bids for this tender.
"We believe the students are being locked into very expensive deals aimed at benefiting the service providers, not the students, which smacks of an enrichment scheme for the new, inexperienced companies, who stand to rake in hundreds of millions of rand at the expense of students and taxpayers," says Heyneke.
"OUTA has seen documentation which shows that the initial service fees on the proposed NSFAS bank card would be approximately R102 per month including VAT.  After a letter to NSFAS to inform them of our concerns, it was quickly reduced to R29 per month, which is still substantially higher than competitive bids.
Instead of NSFAS paying the students directly into the banks of their choice, the tender introduces third parties between NSFAS and the students.
NSFAS states on various platforms that if students are not onboarded on the new payment system, they will not receive their allowances. These comments from NSFAS may create anxiety among students and this is made worse by the fact that the service providers' online onboarding systems are not very user-friendly.
Student allowance calculation tool tender
This was awarded to Futgenx Technology at a cost of R4.053 million for three months.
Futgenx appears to offer an astonishing range of services: the ICT services to NSFAS, a fleet management system for a tender submitted to the Services SETA in July 2020, and the provision of cloth masks for National Treasury in 2020. Information obtained from Treasury indicated that Futgenx introduced themselves as a manufacturer of masks and gowns with 153 employees.
Futgenx was paid R3.265m but didn't finish the job; a new contractor, Idol Consulting, charged R1.995 million to finish it, resulting in NSFAS overpaying by R1.116 million.
The NSFAS office lease
In March 2022, NSFAS signed an office lease with Dynamic SA Holding for offices in The Halyard building in the Foreshore in Cape Town, a sought-after area. Although the lease agreement indicates that Dynamic SA is the landlord, a deed search shows that the building owner is Ziningi Properties.
The lease was signed for five years, backdated to start on 1 February 2022. According to the tender, it was supposed to be a two-year lease with an option to renew for another three years. The offices total 8 479 square metres and the cost over the rental period is R166.906 million, including VAT and escalations.
The 2020/2021 NSFAS Annual Report indicated that there were 383 people employed at NSFAS and 68 vacancies. If those vacancies are all filled and the 451 total employees are taken into account, then every employee will have an average workspace of approximately 18.8 square meters. Based on 451 employees, NSFAS will be paying an average of R74 000 per employee per year to lease this building.
OUTA notes that NSFAS has cut its subsidies for student accommodation to R45 000 per student per year (see here and here), leaving many students unable to afford accommodation.
What now?
In October 2022, OUTA requested all the tender documents on the abovementioned bids in terms of the Promotion of Access to Information Act, but the request was denied by NSFAS in December 2022.  OUTA submitted an internal appeal and is awaiting the outcome. NSFAS has argued that if it shares the requested information with OUTA, the SIU investigation will be prejudiced. We do not believe this is a justification for refusing access to information.
If OUTA's internal appeal against the NSFAS refusal is not successful, the matter will be referred to the Information Regulator for a review of the NSFAS decision.
At the start of the 2023 academic year, it is important that tertiary institutions are ready for the intake of new students. The contribution of NSFAS to a smooth start of the academic year is of crucial importance to enable students who cannot afford tertiary studies to get all the support they need for their academic future. This includes handling the application processes, appeals submitted and prompt payment of accommodation and study material allowances. It is just as important that the payment of student allowances is effected without delays.
OUTA has observed that at several tertiary institutions students are complaining and protesting about the cost of accommodation, the delays in NSFAS registrations and the  delays in paying student allowances that are still outstanding from previous years.
South Africa cannot afford to ignore these valid complaints by students.
More information
A soundclip with comment by OUTA Portfolio Manager Rudie Heyneke is here.
Table below: Comparison between NSFAS card and big bank standard offers. Compiled by OUTA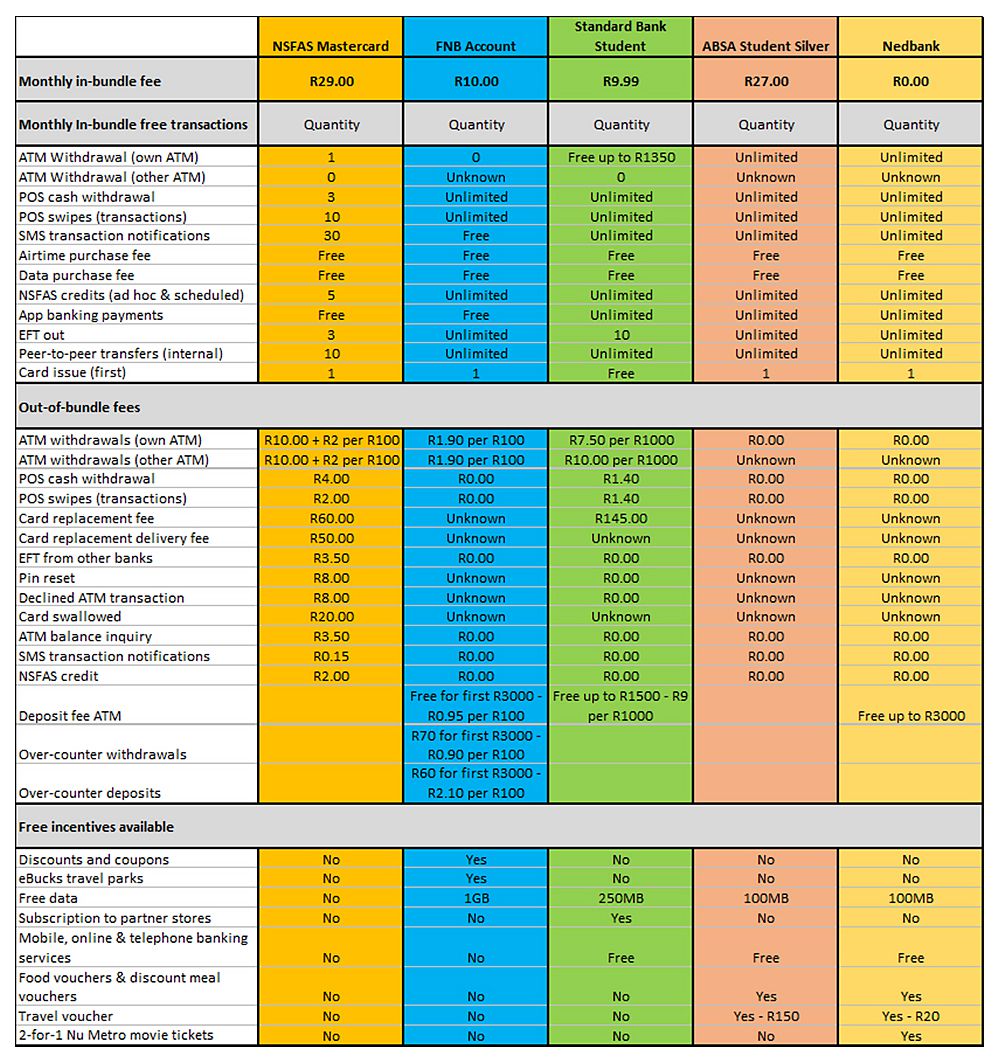 Help us oppose corruption
OUTA is standing up against government corruption and mismanagement. 
Our work is made possible though donations by our paying supporters.
Join us in working towards a better South Africa by becoming a paying OUTA supporter. 

In 2023, we're in court challenging the AARTO law, the Karpowership generation licences and SANRAL's secrecy over toll profits.
We're also challenging electricity prices and defending South Africa's water resources.
We want to see South Africa's tax revenue used for the benefit of all, not a greedy few. 
Any amount welcome.