04/03/2020 06:41:27
Pollution in Milnerton Lagoon is getting worse

In January and February, OUTA arranged for water tests to be carried out at the Milnerton Lagoon in Cape Town. The four sets of results show a clear spike in the pollution of the Lagoon.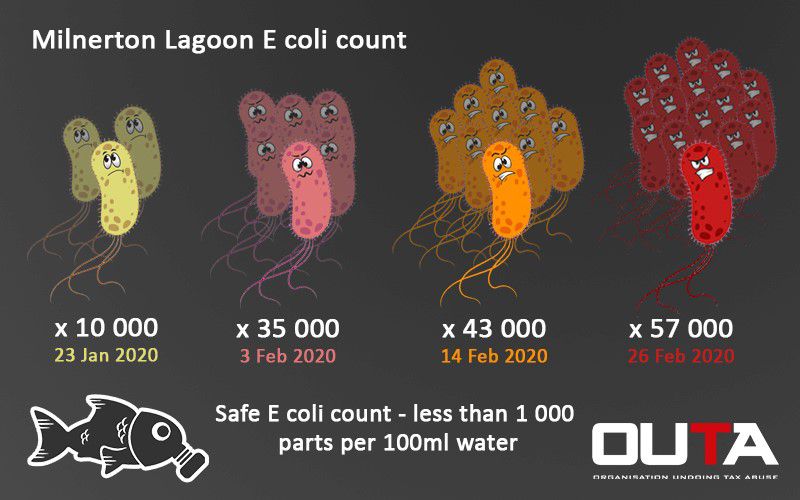 The amount of E coli should not exceed 1 000 parts per 100ml of water, before it is diluted with fresh or sea water.

On 23 January, results showed 10 000 parts per 100ml, measured just below the Potsdam Wastewater Treatment Works (WWTW).
On 3 February, results showed 35 000 parts per 100ml.
On 14 February, it was up to 43 000 parts per 100ml.
On 26 February, it was an astonishing 57 000 parts per 100ml.
This is an indication of sewage contamination. Some strains of E coli can cause diarrhoea.
"The results we have obtained through our independent sampling efforts around the Potsdam Wastewater Treatment Works are diluted results. This means that the supposedly treated wastewater has been discharged and mixed with the fresh water in the Diep River which should in effect dilute the concentration of E coli per 100ml of water and indeed it does according to our results," says Andrea Korff, Legal Project Manager at OUTA.
The Department of Water and Sanitation's
most recent tests
found more than 1 million parts per 100ml in the effluent discharged from the Potsdam WWTW.
The Potsdam WWTW is managed by the City of Cape Town.
These results show contravention of the law and of the City's water-use licence.
"Wastewater is classified as hazardous and needs to be treated and discharged well within the limits to ensure health and safety for both citizens and the natural environment," says Korff.
On 7 February, OUTA
wrote to
the City of Cape Town calling for action to end the pollution. The City has arranged to meet OUTA on 18 March.
The Western Cape Department of Environmental Affairs and Development Planning's own tests subsequently confirmed that the Potsdam WWTW is a major cause of pollution.
On 18 February,
the department said
it had asked the City of Cape Town to provide a report on this issue and a plan to address it, including emergency measures. OUTA wants this plan to be made public, with deadline dates and individuals responsible for the specific tasks identified, so that the public can monitor progress.
"This has been an issue for years. While we welcome the Western Cape provincial government's promise of action against the City of Cape Town, we would like to see officials being held accountable for the mess – which means heads must roll," says Korff. 
Picture: OUTA