07/02/2023 12:33:38
This year's SONA cannot dodge the national crisis 
On Thursday 9 February, President Cyril Ramaphosa will deliver his annual State of the Nation Address (SONA) at the formal opening of Parliament.
He will address a nation demoralised by loadshedding, by frightening levels of unemployment, poverty and crime, by the collapse of water and sewerage infrastructure and rail systems, and by politicians who focus on infighting and personal power to the exclusion of delivering services.
"Now that Cyril Ramaphosa has cemented his role as the ruling party president for another five-year term, the time is overdue for the nation to see the results of the previous promises rather than adding to the list with more empty promises," says Wayne Duvenage, OUTA CEO.
"The Edelman Trust barometer has for many years indicated that South Africans have one of the lowest rates of trust in its government with distrust as the default position. If the president continues to make empty promises, he will continue to widen this gap. We need believable implementation of the many plans that are promised. We need impact."
Essentials which we expect the President to address include:
• The Eskom crisis, including a funded plan to end loadshedding that does not include overpriced projects (such as the Karpowership scheme), a clear direction on resolving Eskom's debt burden and the advancement of Eskom's unbundling;
• Significant support to strengthen the criminal justice system and institutions hollowed out by state capture, and action to implement the recommendations of the State Capture Commission to combat corruption and organised crime syndicates;
• A reshuffled Cabinet, with the removal of obstructionist incompetence and the appointment of competent leaders who place South Africa's interests ahead of their own;
• Significantly enhanced protection and support for whistleblowers; and
• Focused and realistic help for businesses and individuals left floundering by the stagnant economy and the collapse of Eskom and state services.
Last year the President spoke of South Africa being at a turning point and spoke of a need for a new consensus to drive collective effort by South Africans to address poverty, unemployment and inequality. Yet this is not followed up with meaningful engagement with citizens and civil society organisations. We don't want to see superficial mass mobilisation only next year in attempts to garner votes before the 2024 elections.
Despite our electricity constraints, the President has promised in all his past SONAs a revival of economic growth and job creation. Yet little has really transpired. Talk of having third party access to improve service delivery on the rail system has not made any meaningful progress.
We don't need to hear of additional support for corruption fighting. We need to see action and the elimination of construction mafias and the rampant organised crime in government procurement. South Africans feel less safe today than they did several years ago, and unless we see significant action and a change of leadership, we will never see the police become the service-oriented professional entity that it ought to be.
More information
A soundclip with comment OUTA's Parliamentary Engagement and Research Manager, Rachel Fischer, is here.
OUTA supports the Defend Our Democracy civil society protest, The Real State of the Nation, at St George's Cathedral in Cape Town at 5pm on Wednesday 8 February (see below).
Watch Defend Our Democracy's Real State of the Nation Address on 8 February here.
The Defend Our Democracy statement on the Real State of the Nation, which OUTA endorses, is here.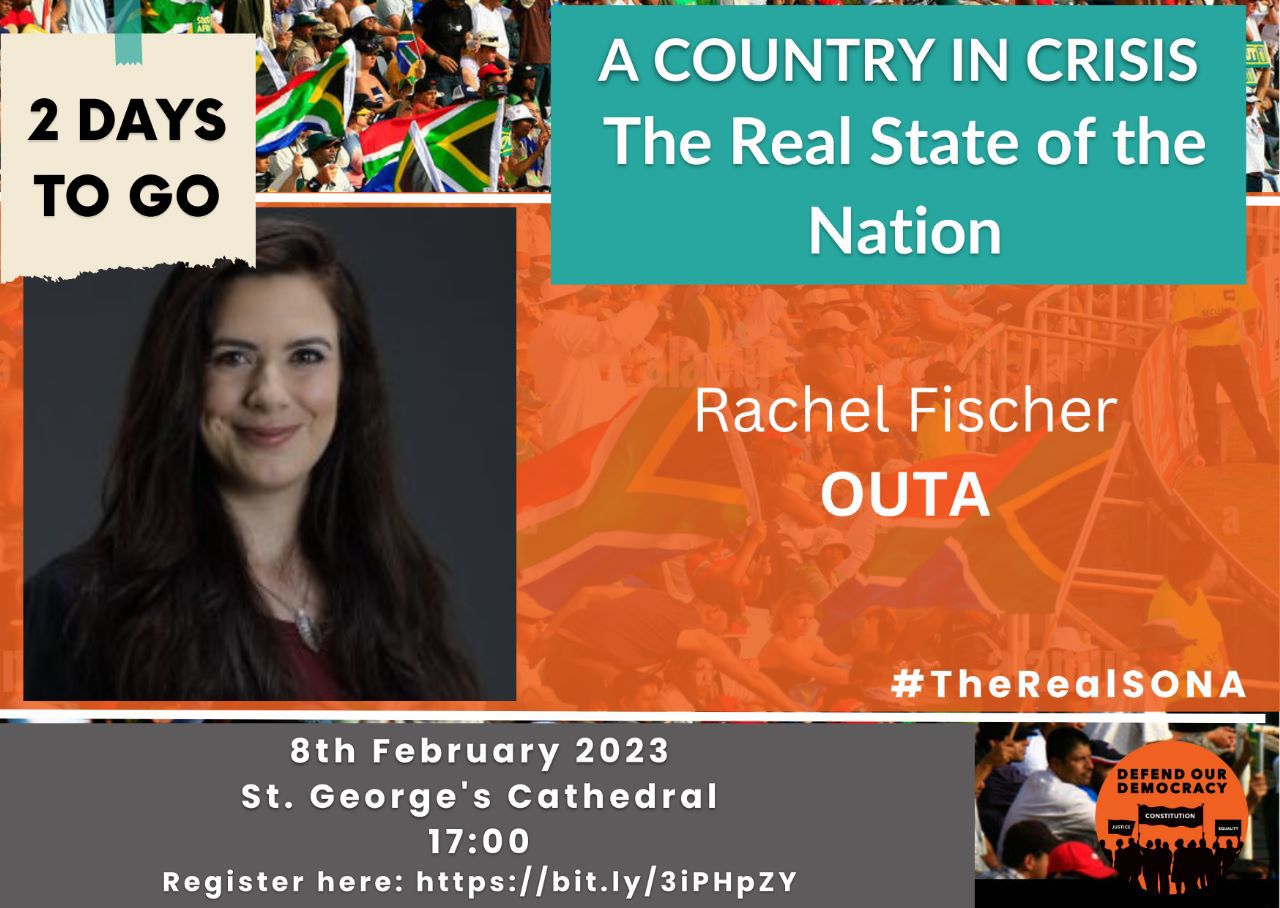 Image: Shutterstock/OUTA