High Court emphasises importance of transparency and orders Services SETA to hand over hidden information to OUTA
Nearly three years after our request, OUTA will get to see the documents on the Services SETA's R163m contract which was supposed to help thousands on learnerships but seems to have provided little benefit
04/11/2021 14:38:06
High Court emphasises importance of transparency and orders Services SETA to hand over hidden information to OUTA

It took 34 months but the Organisation Undoing Tax Abuse (OUTA) would not let the matter rest.
Today (Thursday 4 November) the Johannesburg High Court ruled in OUTA's favour, ordering the Services Sector Education and Training Authority (Services SETA) to hand over information on a controversial R163 million contract which OUTA was investigating.
"This is a win for transparency and for taxpayers," says Asavela Kakaza, OUTA Legal Project Manager.
"Today's judgment ends yet another attempt by a government entity to duck a legitimate request for information. Applications for information in terms of PAIA are crucial tools for those working in support of transparency, particularly to expose corruption and mismanagement."
OUTA believes the Services SETA has been hiding a corrupt contract, and that the documents requested will confirm this.
Today's judgment is a win for OUTA after a battle over nearly three years.
On 23 January 2019, OUTA filed an application in terms of the Promotion of Access to Information Act (PAIA) with the Services SETA, asking for a specified list of documents relating to a controversial contract worth R162.669 million with a business called Grayson Reed. The Services SETA had hired Grayson Reed to manage stipend payments to learners and interns on work experience postings, and manage a biometric learner attendance monitoring system. Learners approached OUTA saying they had not received their stipends for months, and were unaware of any biometric devices being used. OUTA had exposed the existence and failure of the Grayson Reed contract in November 2018.
On 4 March 2019, the Services SETA provided four documents but refused access to the rest, and later dismissed an internal appeal against that refusal.
In September 2019, the Services SETA cancelled the Grayson Reed contract.
In October 2019, OUTA filed an application in the Johannesburg High Court, challenging the Services SETA's refusal to provide the documents.  Nearly two years later, on 8 June 2021, the case was heard in court and judgment was delivered today.
The court found that the Services SETA had failed to produce any evidence in support of its refusal to grant access to the information. The Services SETA had argued that Grayson Reed opposed access  on the grounds that it was confidential and would harm the business's commercial interests. "This argument is not good enough to shield SETA from its inability to act in accordance with the provisions of PAIA. SETA was expected to act independently and apply itself properly to the request made without influence from Grayston Reed, and this it did not do," said Judge Marcus Senyatsi, noting that the business had not itself opposed OUTA's application and that the tender was now historical so nobody could have derived any commercial advantage.
"Our Constitutional values require that public bodies be transparent, and that transparency in turn equates to public confidence on how the public funds are managed," said Judge Senyatsi.
This is what OUTA had found out about the Grayson Reed contract, which led to the PAIA request
OUTA's investigation arose from information provided by whistleblowers in 2018. This is what OUTA found:
• The Services SETA hired Grayson Reed to provide 3 333 biometric units at R5 000 each (to record learner attendance at the places they are working or training), and to pay learner stipends each month at R121.67 per stipend per month (much more than the R13 to R51.77 that the Post Office charged to pay social grants).
• "Grayson Reed" is not a registered name, but was used by a business registered under a different name.
• The biometric units were all purchased outside South Africa, in a transaction which looked suspiciously as though it was more about moving a large amount of money offshore. Documents seen by OUTA showed that Grayson Reed "paid" more for the biometric units than it charged the SETA, and "forgot" about VAT.
• Learners apparently weren't paid.
• A list of payments to businesses for learner stipends appears to have been falsified, with unregistered businesses listed as recipients for huge amounts and figures that don't make sense. For example, the Free State Premier's Office was listed as a recipient of payments totalling R714 500 for one month's stipend, which would have been for 197 learners at the rates paid.
• The Services SETA paid stipends for 100 000 learners through the Grayson Reed contract, but the SETA's own records show it paid for a maximum of only 28 715 learning opportunities a year and only 13 500 of these were learnerships.
More information
A soundclip with comment from OUTA's Asavela Kakaza is here.
Today's judgment is here.
The list of documents sought is here. 
More information on this case is here.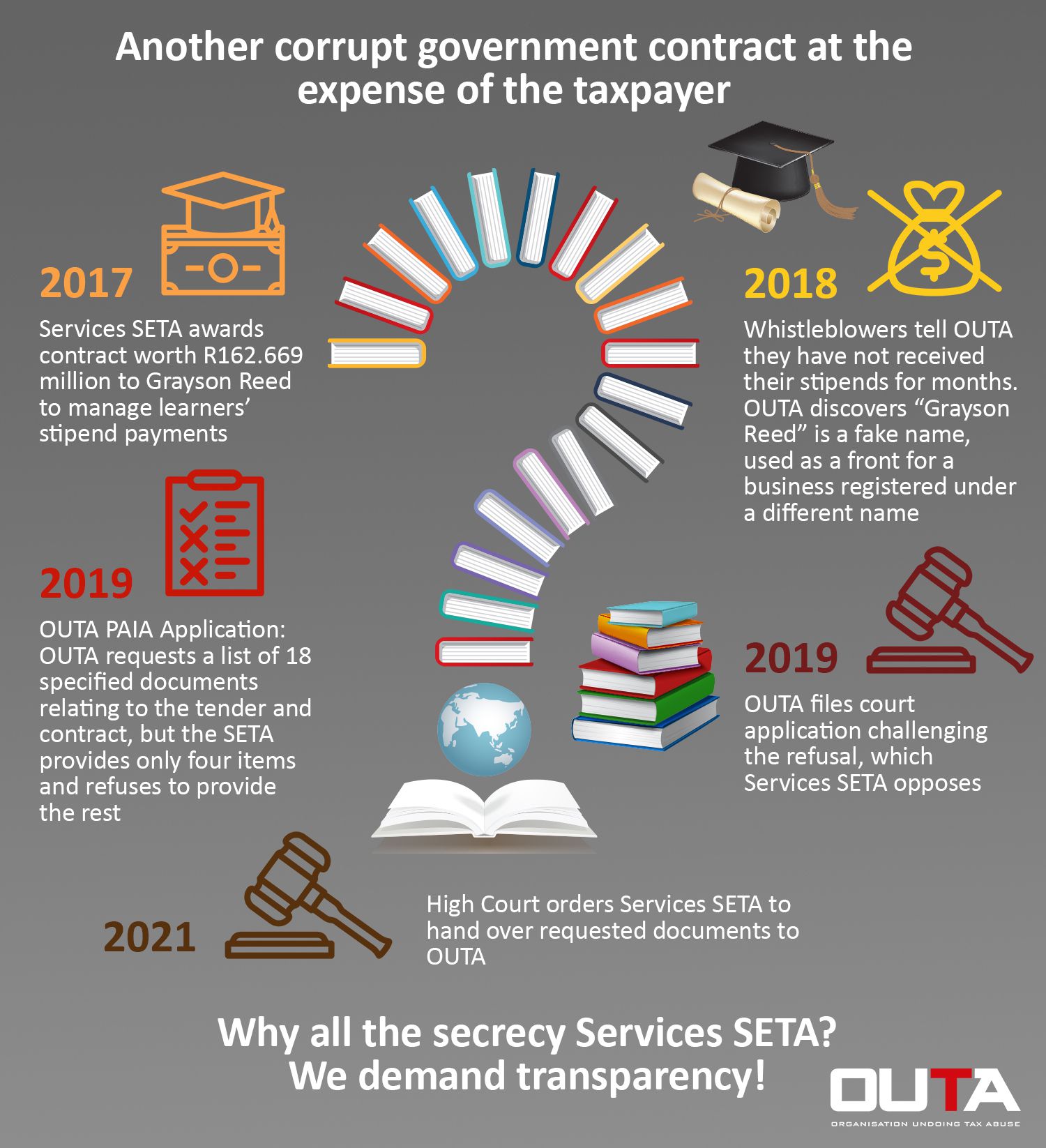 Picture: OUTA