24/04/2020 11:03:42
Something fishy about City of Cape Town's water results  

The Organisation Undoing Tax Abuse (OUTA) has been engaging with the City of Cape Town over the past couple of months to find workable short-term solutions to the water pollution problem that has plagued residents of Milnerton and surrounding areas for years.


"The Covid-19 pandemic hasn't deterred OUTA from continuing with independent water testing, and the results we are receiving does not show the improvement the City is boasting about in the media," says Andrea Korff, Legal Project Manager at OUTA.


The City of Cape Town released a press statement this week claiming that their water test results obtained in April 2020 shows significant improvement compared to previous months when technical issues at the Potsdam Wastewater Treatment Works (WWTW) polluted the Diep River system. The City claims that the improvement was due to measures that they have put in place to address the pollution.


The City's results indicate E. coli counts of less van 10 units per 100ml of water according to their results for samples taken on 13 April 2020. Results for samples collected a week later showed counts of 280 units of E. coli per 100ml of water. While this seems like a significant improvement, OUTA's tests conducted on the 8th of April 2020 showed an E. coli count of 32 000 per 100ml of water, and tests results for 21 April shows E. coli counts of 12 800 per 100ml. 


"We trust the results of our own samples," says Korff. "Although collected at different times and dates, our results would have shown much lower counts of E. coli if the City truly addressed the pollution problem. One cannot help but question their results, and we believe it might be better to do joint sampling should the City open the doors for its citizens to participate in the process." 


Unfortunately, OUTA has experienced in the past that joint efforts provide Municipalities with an opportunity to manipulate the system – for instance, treating the water properly for a change or dosing it with excessive chlorine – to ensure clean water on the date and time of joint sampling. "Hence OUTA is sticking to random sampling. It keeps everyone honest," says Korff. 


OUTA wants to see tangible changes in the quality of water being discharged from the Potsdam WWTW and call on the City to be completely transparent with their water testing. "Don't mislead the public with the promise of miracle water." says Korff.


During OUTA's engagements with the City, we undertook to work with the City of Cape Town to find workable solutions to the problem and have requested the City to be transparent with their water test results.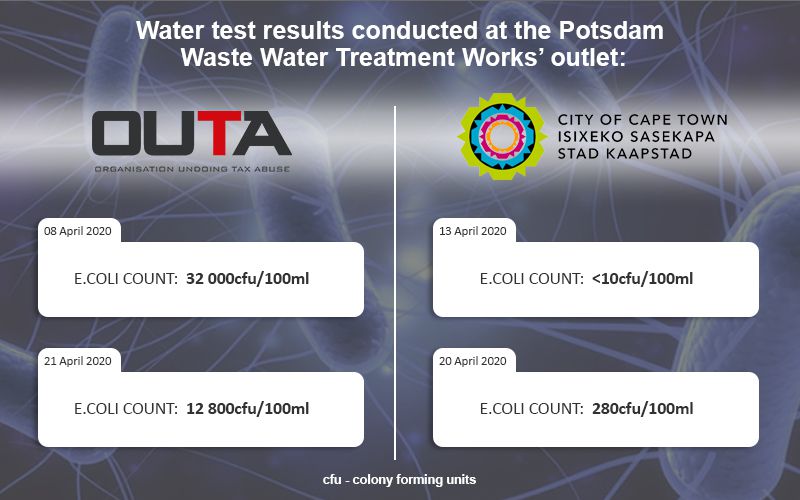 Picture: Shutterstock