Digital migration deadline being used to ram through massive Sentech tender in just three days
Government has failed for years to provide television viewers in poorer communities with set-top boxes so they can keep watching after the digital migration switch over, but is now at the last minute signing up installers on a three-year deal that could be worth R300 million
25/03/2022 13:50:00
Digital migration deadline being used to ram through massive Sentech tender in just three days 
A week before the national deadline for migrating the country to digital television, it appears that Sentech is sneaking through a massive tender to carry out the set-top box (STB) installations that should have been finished long ago, advertising it for just three days
OUTA calls for an immediate halt to this tender and for a transparent and legal process to be used.
"We do think that this points to possible serious irregularities, as Treasury's procurement regulations require adverts to run for at least 21 days," says Advocate Stefanie Fick, OUTA executive director.
"This is how we believe corruption takes place. Someone may sneak in a huge tender with a very limited public view, so only the bidders who are tipped off to see it bid."
More than 10 years after the Cabinet first promised to complete digital migration, the final national switch-off of the analogue signal is set for 31 March 2022. This is a deadline that President Cyril Ramaphosa announced in his State of the Nation Address in February 2021 and again in February this year.
At least 5 million poor households are supposed to have been given free STBs so they can continue watching on the digital signal, but this programme has largely failed and government is now simply turning off the analogue signal. By early February, five provinces had been switched off (see here), leaving poorer households in the dark.
Now Sentech, the entity currently responsible for the STB installation, appears to be using the looming deadline and the government's failure to manage this programme to push through a huge tender to install the STBs without the necessary transparency and appropriate advertising.
Scenarios of this nature transgress procurement processes and are ripe for corruption. There is a likelihood that this tender will be awarded to a pre-chosen group of bidders.
National Treasury Regulations for departments, trading entities, constitutional institutions and public entities, issued in terms of the Public Finance Management Act, state in section 16A6 3(c) that the accounting officer or accounting authority "must" ensure that "bids are published in the Government Tender Bulletin for a minimum period of 21 days before closure, except in urgent cases when bids may be advertised for such shorter period as the accounting officer or accounting authority may determine".
OUTA believes it is difficult to argue that this tender is "urgent", as this project has been going on for years, and the deadline of 31 March has been publicly known about for more than a year.
The three-day bid window
The tender is Sentech's tender number SENT/033/2021-22 for "Appointment of a panel of installers or installation Companies for the installation of Domestic Digital Terrestrial Television (DTT) STB's, Direct to Home (DTH) STBs and Integrated Digital Television Receive System in the Eastern Cape, Western Cape, Limpopo, Mpumalanga, KwaZulu-Natal and Gauteng for a period of 3 years."
The tender is on the government's eTenders portal, showing the date the tender advert was published as Tuesday 22 March 2022 and the closing date for bids as 2pm on Friday 25 March 2022. That's three days.
Although this is a three-year project, there is no briefing session for bidders.
The tender documents offer payment of R350 to R670 per installation, with the STB units being supplied by the SA Post Office. There's no indication of how many households will be included.
The Universal Service and Access Fund (another Department of Communications SOE which worked on the project) stated in its annual report for 2020/21 that as of March 2021, there were 860 000 STB units in storage at the Post Office.
Installing those 860 000 STBs at the minimum rate of R350 each gives the tender a value of R301 million.
Assuming at least 4 million households still qualify for these STBs, that's a potential tender value of about R1.4 billion at R350 per unit.
The "Equipment required for bidders" listed in the tender indicates low-level requirements for bidders: they need "own tool box with spanners 6mm to 15mm, screwdrivers (various sizes of flat and star), pliers, socket set 6 to 15mm, hammer drill with 13mm chuck, hammer, drill-bits (all types)", own transport, a signal strength meter, a 2m ladder, a smart phone, and the ability to attach connectors to installed coaxial feeder cables.
The failed installation programme
The Department of Communications and Digital Technologies, which is responsible for the migration project but has bungled it for years, is supposed to have arranged free STBs (to enable old televisions to receive digital signals) for about 5 million poorer households. Although this project was years in the planning and the subsidies for the STBs were available since December 2016, by October last year the department had registered only 1.184 million qualifying households and migrated only 556 954 of those households.
A total of 11 ministers have presided over this project. It has moved from one state-owned entity to another, and is now with Sentech.
More information
A soundclip with comment by OUTA's Advocate Stefanie Fick is here.
The tender documents are on the government's eTender portal; the invitation to bid is here and the scope of work is here.
A screenshot from the eTender portal showing the date the tender was published and the closing date is below.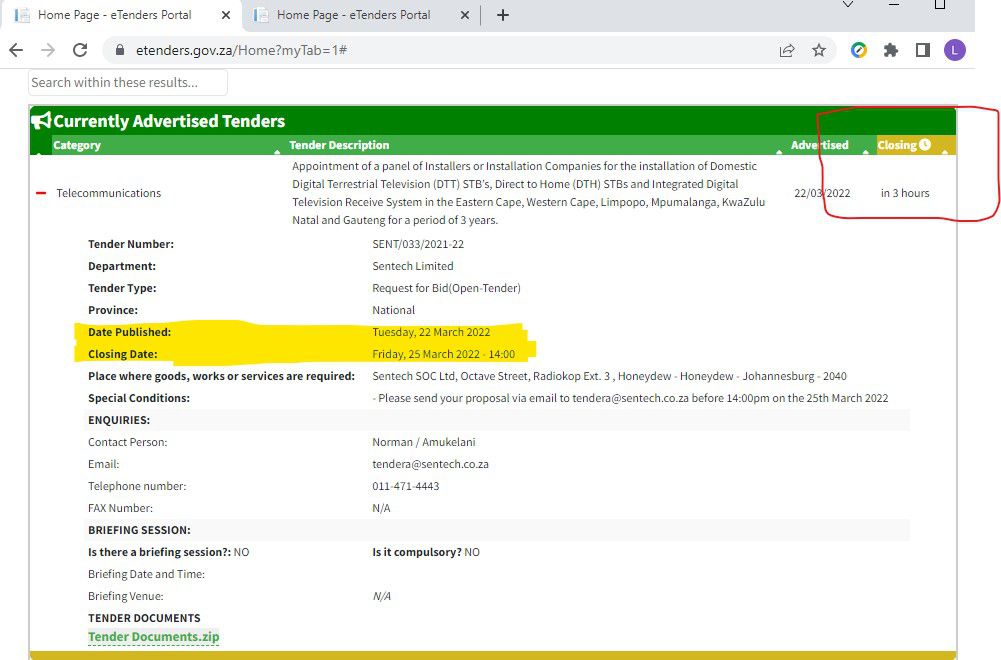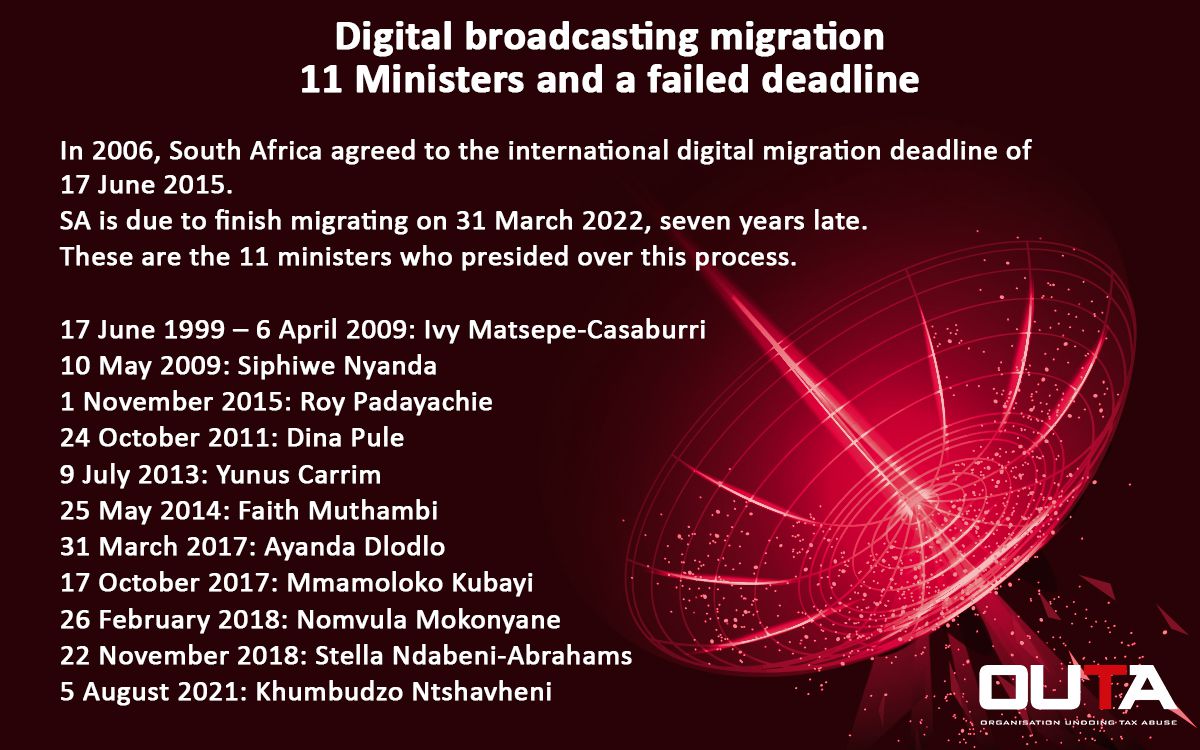 Picture: OUTA