19/02/2020 07:07:44
Eventually the court will hear Myeni's version


OUTA and SAAPA have finished leading evidence against former SAA chair Dudu Myeni in the Pretoria High Court.


Myeni's lawyers are now due to respond and their first – and only – witness listed is Myeni herself.


She is expected to appear when the case resumes on Thursday. The case is being heard in the Pretoria High Court. 

The Organisation Undoing Tax Abuse (OUTA) and the SAA Pilots' Association (SAAPA) brought the application to declare Myeni a delinquent director in terms of section 162(5) of the Companies Act in March 2017. The application is based on her conduct while she was chairperson of the SAA board from December 2012 until October 2017 when she left the board.


The court hearing started in October 2019 and was initially delayed by Myeni's failure to turn up or appoint lawyers. She subsequently brought three applications against OUTA and SAAPA in an attempt to halt the case, but lost all three.


Lawyers for OUTA and SAAPA made their opening statement on 29 January and then led evidence against Myeni.
Witnesses called by OUTA and SAAPA were: 
Nico Bezuidenhout, former acting CEO of SAA and now the CEO of Mango Airlines.

Sylvain Bosc, former Chief Commercial Officer at SAA and now the Senior Vice President for Europe at Qatar Airways.

Thuli Mpshe, who was SAA's General Manager for Human Resources from 2010 and, from July to November 2015, was the acting CEO; she is currently the acting GM for Human Capital at SAA Express.

Avril Halstead, a Chief Director at the National Treasury. During Myeni's tenure Halstead was responsible for oversight of SOEs including SAA on behalf of the Treasury.

Wolf Meyer, former CFO at SAA and now CFO at Saudi Arabian Airlines.

Carl Stein, an attorney, partner at Lawtons Africa and an expert on corporate governance.
"We are grateful to the whistleblowers who stood up to Dudu Myeni and were prepared to give evidence against her. They showed courage and ethics in a difficult situation," says Advocate Stefanie Fick, OUTA's Chief Legal Officer.
"We are looking forward to Myeni's appearance."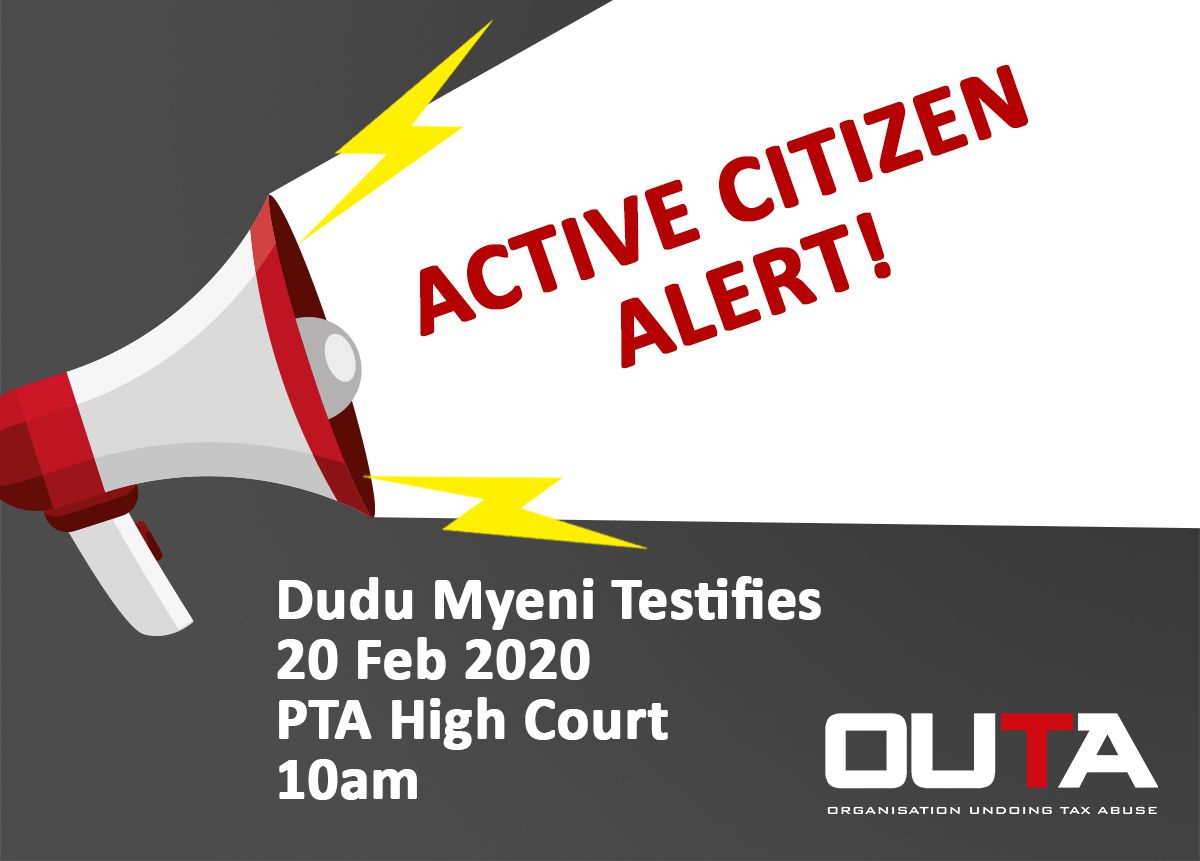 Picture: OUTA