03/02/2021 10:46:47
#NoNewNuclear: OUTA calls on South Africans to oppose nuclear plans
South Africa has until Friday to tell the National Energy Regulator (NERSA) to close down government's attempt to build new nuclear power.
OUTA strongly opposes the nuclear plan.
OUTA is making a submission to NERSA outlining our objections. Our submission and an outline of our reasons are online on our website here.
This is the process: Minister of Energy Gwede Mantashe has written a two-page nuclear determination, saying that government plans to buy 2500MW of new nuclear power. This is in addition to extending the life of Koeberg. In terms of the Electricity Regulation Act, the Minister must consult with NERSA when doing this. This consultation is underway and, as part of it, NERSA has asked for public comment.
The comment deadline is Friday 5 February.
"It is imperative that South Africans make their voices heard on this crucial issue," says Liz McDaid, OUTA's Energy Project Manager.
"If the government goes ahead with a new nuclear build, you, your children and likely your grandchildren will be paying for it in increased electricity prices and even more taxpayer bailouts to Eskom. This is your future."
OUTA says #NoNewNuclear
OUTA opposes a new nuclear build because:
South Africa doesn't need it. Government's own energy plan, the Integrated Resource Plan 2019 (IRP 2019) shows that renewable energy is the cheaper option for South Africa. The IRP 2019 also did not include nuclear energy in South Africa's energy plans.

The narrative that nuclear is needed for baseload power is out of date. What is needed is a constant minimum supply of power, but this does not mean it must come from a single source. Renewables can be scattered around the country, taking advantage of different weather conditions. In the same way that a factory operating 24/7 does not require its entire workforce to be on site 24/7, power stations do not have to all be generating at the same time.

South Africa can't afford it.

Government isn't saying how much it would cost, but using Cabinet's 2015 estimates it could be as much as R380 billion, including finance costs.

Government intends to be the generator, the buyer and the procurer, partly in partnership with Eskom, which means electricity consumers and taxpayers will pay for this.

South Africa has a history of mega projects (think of Medupi and Kusile) which run years late and tens of billions of rand over budget. Corruption in mega projects has created significant distrust in government by civil society.

There are no feasibility studies or, if there are, these are secret.

South Africa has more urgent priorities for such spending: for example, building and repairing schools, upgrading hospitals, providing clean water and sanitation to everyone.

Government oversight is not good enough. For example, the National Nuclear Regulator board is legally required to include civil society but the board appointed by the Minister in August 2020 does not include this.

The government tried to smuggle in a nuclear deal with Russia in 2015. This was thrown out by the courts, but only after civil society brought legal action. This failed deal raised many questions of secrecy and who was benefiting.
A soundclip (1 min 12 sec) with comment from Liz McDaid is here.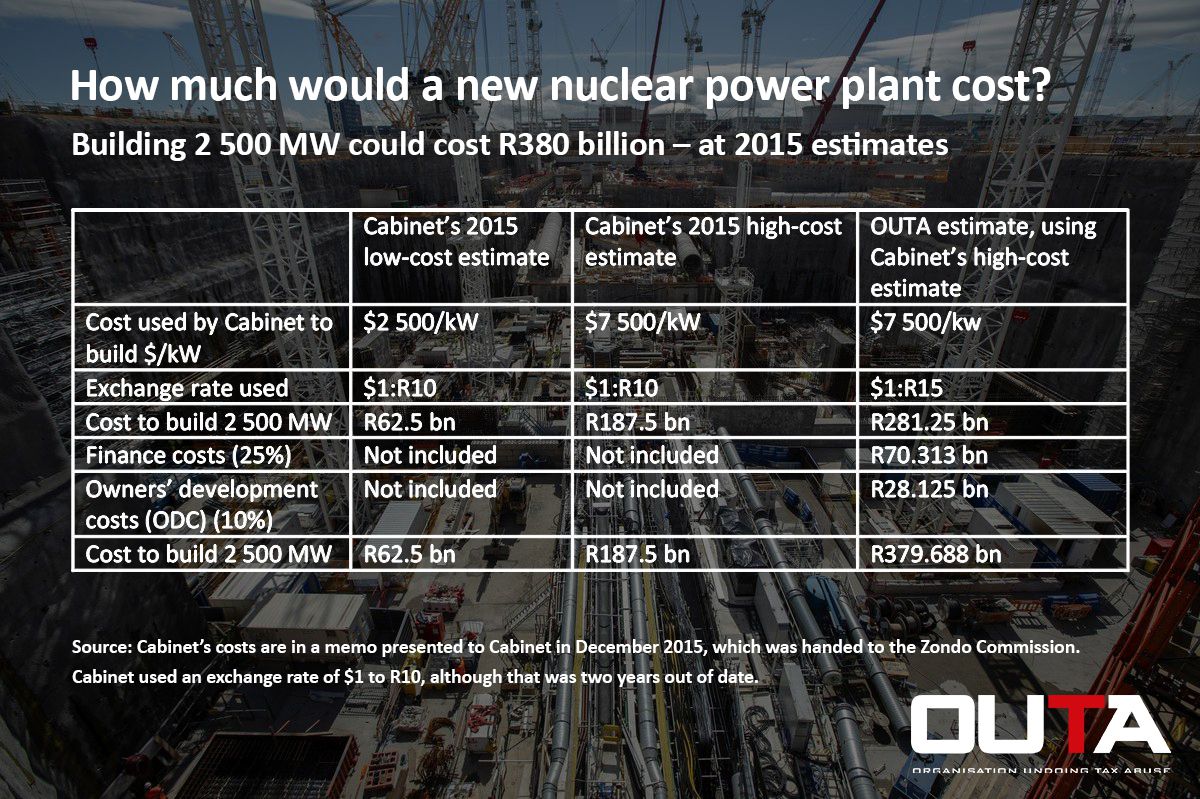 Picture: OUTA