15/12/2020 10:30:41
OUTA's 2020 Corruption Combating Calendar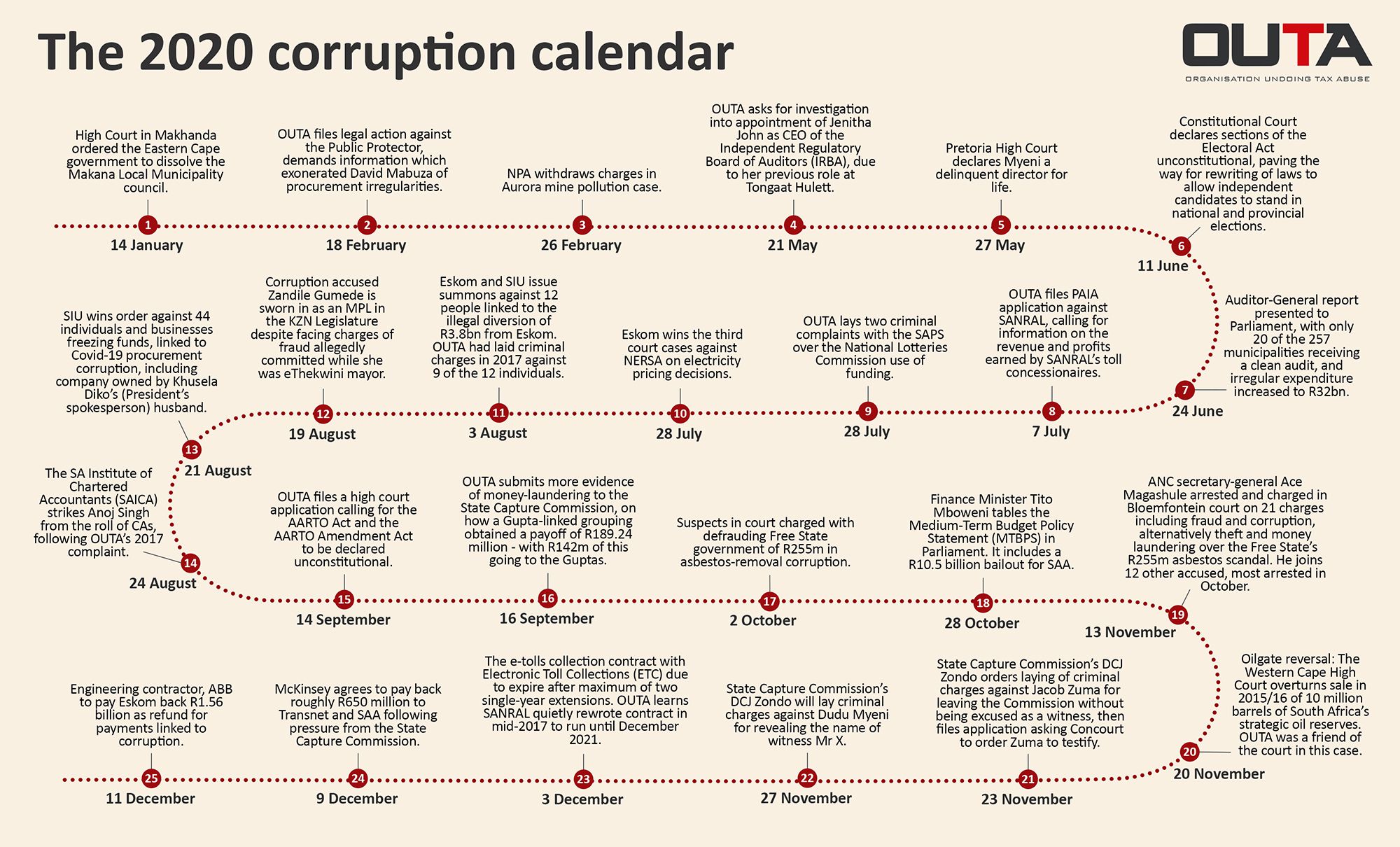 2020 saw the wheels of justice gather good momentum in the fight against corruption. 
Below are some of OUTA's major highlights for 2020, we are looking forward to continuing the fight in 2021.  


14 January - Makhanda High Court ordered the Eastern Cape government to dissolve the Makana Local Municipality council.
18 February - OUTA files legal action against the Public Protector, demands information which exonerated David Mabuza of procurement irregularities.
26 February - NPA withdraws charges in Aurora case.
21 May - OUTA asks for investigation into appointment of Jenitha John as CEO of the Independent Regulatory Board of Auditors (IRBA), due to her previous role at Tongaat Hulett.
27 May - Pretoria High Court declares Dudu Myeni a delinquent director for life.
11 June - Constitutional Court declares sections of the Electoral Act unconstitutional, paving the way for rewriting of laws to allow independent candidates to stand in national and provincial elections.
24 June - Auditor-General report presented to Parliament, with only 20 of the 257 municipalities receiving a clean audit, and noting a R32bn increase in irregular expenditure.
7 July - OUTA files PAIA application against SANRAL, calling for information on the revenue and profits earned by SANRAL's toll concessionaires.
28 July - Eskom wins the third of three court cases against NERSA on electricity pricing decisions.
28 July - OUTA lays two criminal complaints with the SAPA over the National Lotteries Commission use of funding.
3 August - Eskom and SIU issue summons against 12 people linked to the illegal diversion of R3.8bn from Eskom. OUTA had laid criminal charges in 2017 against 9 of the 12 individuals.
19 August - Corruption accused Zandile Gumede is sworn in as an MPL in the KZN Legislature despite facing charges of fraud allegedly committed while she was mayor.
21 August - SIU wins order against 44 individuals and businesses freezing funds, linked to Covid-19 procurement corruption. Including company owned by Khusela Diko's (President's Spokesperson) husband.
24 August - The SA Institute of Chartered Accountants (SAICA) strikes Anoj Singh from the roll of CAs, following OUTA's 2017 complaint.
14 September - OUTA files a high court application calling for the AARTO Act and the AARTO Amendment Act to be declared unconstitutional.
16 September - OUTA submits more evidence of money-laundering to the State Capture Commission, on how a Gupta-linked grouping obtained a payoff of R189.24 million - with R142m of this going to the Guptas.
2 October - Suspects accused of defrauding Free State government of R255m appear in the Bloemfontein Magistrate's Court, in asbestos corruption. Companies performed work worth R21-million while being paid R230-million. 
28 October - Finance Minister Tito Mboweni tables the Medium-Term Budget Policy Statement (MTBPS) in Parliament. It includes a R10.5 billion bailout for SAA.
13 November - ANC secretary-general Ace Magashule arrested and charged in Bloemfontein court on 21 charges including fraud and corruption, alternatively theft and money laundering over the Free State's R255m asbestos scandal. He joins 12 other accused, most arrested in October. 
20 November - Oilgate reversal: The Western Cape High Court overturns sale in 2015/16 of 10 million barrels of South Africa's strategic oil reserves.
23 November - State Capture Commission's DCJ Zondo will lay criminal charges against Jacob Zuma after leaving Commission without being excused as a witness, and dismissed Zuma's application for recusal.
27 November - State Capture Commission's DCJ Zondo will lay criminal charges against Dudu Myeni for revealing the name of witness Mr X.
3 December -  E-tolls collection contract with Electronic Toll Collections (ETC) due to expire after maximum of two single year extensions. OUTA learns SANRAL quietly rewrote contract in mid-2017 to run until December 2021. 
9 December - Mckinsey agrees to pay back roughly R650 million to Transnet and SAA following pressure from the State Capture Commission. 
11 December - Engineering contractor, ABB to pay Eskom back. R1.56 billion as refund for payments linked to corruption. 
Picture: OUTA