CEO UPDATE

It's been another very productive month for Team OUTA. We filed court papers for various important cases and continued our work on 73 open projects. The past month or so has seen some movement and action being taken within the criminal justice system, following years of frustrating delay and inertia. Aside from the recent (and long overdue) SAICA action against Anoj Singh (former Transnet and Eskom CFO, and state capture enabler), we have seen some arrests of government officials, with the SIU also moving swiftly to freeze bank accounts of Covid-19 tenderpreneurs. In addition, there are strong indications that the net is closing in on a number of "big-fish" with substantive cases to follow soon. The dominoes are starting to fall.

One of the current matters that OUTA is watching closely is the appointment of South Africa's new Auditor-General (AG). Current AG Kimi Makwetu ends his term in November and government is now interviewing seven candidates to take up this very important position. AG Makwetu has been steadfast throughout his tenure – telling it the way it is and resisting any "pressure" to sugarcoat government's performance when it comes to spending taxpayers' money.
We believe firmly that civil society should be keenly involved in the appointment of Makwetu's successor in such an important institution. We would hate to see matters unravel as they did in the Public Protector's office, following the appointment of Busisiwe Mkhwebane as the replacement for Thuli Madonsela, who had elevated the position of Public Protector to its rightful performance level.
From government's final list of nominees, we have selected our top three choices – see who they are here.


TIME TO FIX IS RUNNING OUT
The COVID-19 pandemic saw the South African economy slide further into an economic hole – a deep hole at that – and with no silver bullet solution to rectify the situation, the nation's authorities will have to draw on a range of areas and means to turn the ship around. One of those areas is to bring the issue of endemic corruption under control, which is where OUTA plays a significant role.
Some of the entities that have looted our coffers are international organisations and organs of foreign state entities. Following on one of South Africa's biggest cases of state capture, OUTA has written to the executives of CRRC, a Chinese state-owned locomotive manufacturing company, to demand the return of R5 billion in South African government funds that was laundered through transactions with Transnet on behalf of the Guptas. We also copied President Cyril Ramaphosa on this letter. Details of the letter can be read on our website here.
The point we have emphasised is that we simply cannot allow other countries and foreign companies to get away with blatant involvement in corruption with our taxpayers' money. We explained in detail how there is no way the Chinese company authorities could not have been aware of the fraudulent "rebate" payment deals that took place in favour of the Gupta family and their good friend, Salim Essa. Our evidence (also submitted to the State Capture Commission), shows how payments – amounting to about R9 billion – were made to pay false rewards through the Transnet locomotive contracts with Chinese companies.
In our letter to the Chinese authorities, we are calling for accountability for the looting by the company's directors. We ask them to make the right decision and assist us in laying to rest this particular chapter of the South African state capture saga, by having the perpetrators held to account and the looted funds returned to South Africa.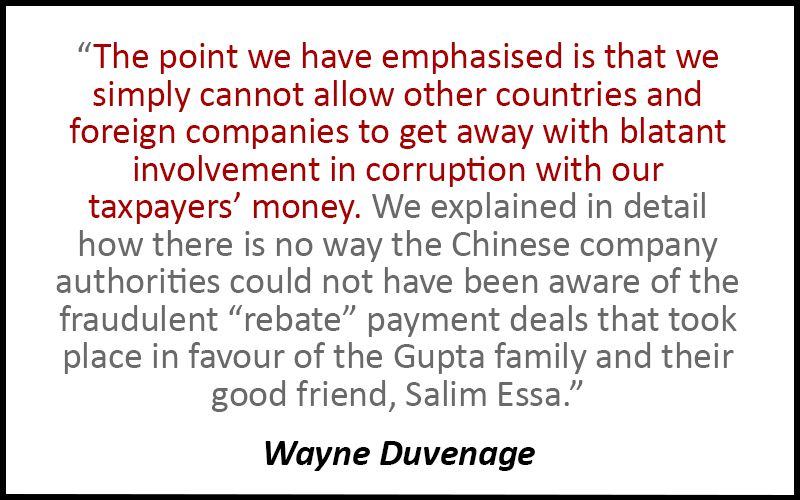 NO MORE WINGING IT
As the thorny issue of SAA's future/non-future continues to be debated, a delegation from OUTA was recently invited in meeting with Minister of Public Enterprises, Pravin Gordhan, senior members of his department and representatives of the aviation industry. The discussion was fruitful, as it added insights into the state's motive and the plans on the table to try to save the distressed airline.
This engagement, along with recent media statements by the CPE, has enabled OUTA's SAA project management team to present its views in a well-motivated statement on why the state should not be a part of any future airline venture. If it was to do so, their shareholding should be of a minority stake. We sincerely believe that SAA should be liquidated; the state should become an enabler of healthy competition and good regulations to enable heightened airline capacity to, from and within the country.
AARTO DESTINED TO FOLLOW E-TOLLS, UNLESS…
Finally, after numerous attempts to engage with them, management of the Road Traffic Infringement Agency (RTIA) agreed to engage with us. The RTIA is the organisation responsible for rolling out the Administrative Adjudication of Road Traffic Offences (AARTO) Amendment Act, the driver's licence demerit point and traffic fine management system. This Act was meant to go live soon, following President Ramaphosa's signature in June. Unsurprisingly however, the AARTO can has been kicked down the road. We suspect it is because government knows that the Act in its current form will fail. Much like the e-toll system in Gauteng, AARTO has not been thought through properly; it remains riddled with administration challenges that will consign it to the growing pile of failed government policies. OUTA has filed court papers to raise our objection to the Act in its current form, while continuing to be part of the discussion on a better, safer way forward on this matter.
OUTA'S LETTER TO THE PRESIDENT
On 23 August, President Ramaphosa published a letter to ANC comrades in which he acknowledged that the party stands as "accused number one" in the corruption mess that has befallen our country. The President's full letter can be read here.
OUTA has responded to the President's letter with a letter of our own. Titled, "Dear Mr President, please make your comradely appeal a Rubicon moment", we acknowledge his courageous stance, as well as his admission that the ANC is at the core of corruption in South Africa. We also recognise that there will no doubt be pushback from ANC individuals who, for years, have had their snouts in the trough. Read the full letter here.
But civil society is tired of all the talk about fighting corruption. We want action. Our plea to the President is to turn his message to ANC comrades into action and an opportunity to bring about real change. Use the many laws and mechanisms that exist to drive transparency and accountability – this will bring corrupt people to book and help kick start the process of getting our country back on a path to prosperity, with an effective, supportive civil society that ensures responsible use of tax revenues throughout government.
Wayne Duvenage