OUTA opposes Eskom's bid for R27bn clawback

Make your voice heard: Register with NERSA to attend the public hearings on Eskom's price increase application

OUTA is opposing Eskom's application for a backdated price increase for 2018/19.
Eskom's application is currently under consideration by the national energy regulator (NERSA).
Eskom has asked NERSA to grant it an extra R27.323bn from customers for 2018/19, in a Regulatory Clearing Account (RCA) application. If this is granted, Eskom will be allowed to claw back this money from customers by increasing prices.
OUTA has submitted comment to NERSA opposing the application; the window for public comment closed on 20 January.
Public hearings are scheduled to run during February. Those wanting to attend a hearing or present their views must register with NERSA by 16:00 on 31 January.
NERSA's decision is expected by 24 March.
"It is time that the people of South Africa speak up against constantly rising electricity prices. NERSA is supposed to be an independent energy regulator whose role is to protect the public. We urge every electricity consumer to attend the public hearings and have your say – democracy means active citizens."
RSVP by emailing: publichearings@nersa.org.za
Background: the RCA application
NERSA sets electricity prices by allowing Eskom a total revenue (allowable revenue) from customers for the year. On the basis of the allowable revenue and the electricity sales prediction, the average electricity price per kWh is calculated. The Regulatory Clearing Account (RCA) or clawback process was set up by NERSA to manage the risk of Eskom over-recovering or under-recovering on that allowable revenue. Effectively, it means that if Eskom doesn't get the revenue it expected for a financial year, or spends more on prudent expenses, it can return to NERSA and ask for that missing revenue to be loaded onto future electricity prices.
The RCA application is for the financial year 2018/19 and Eskom is asking for R27.323bn. This is made up of a shortfall of R5.450bn in allowable revenue plus additional expenses of R21.873bn.
Eskom had applied for allowable revenue of R219.514bn for 2018/19 (a 19.9% price increase); NERSA granted R190.348bn (a 5.23% price increase).
Eskom wants R27.323bn from you for 2018/19
This is Eskom's RCA clawback application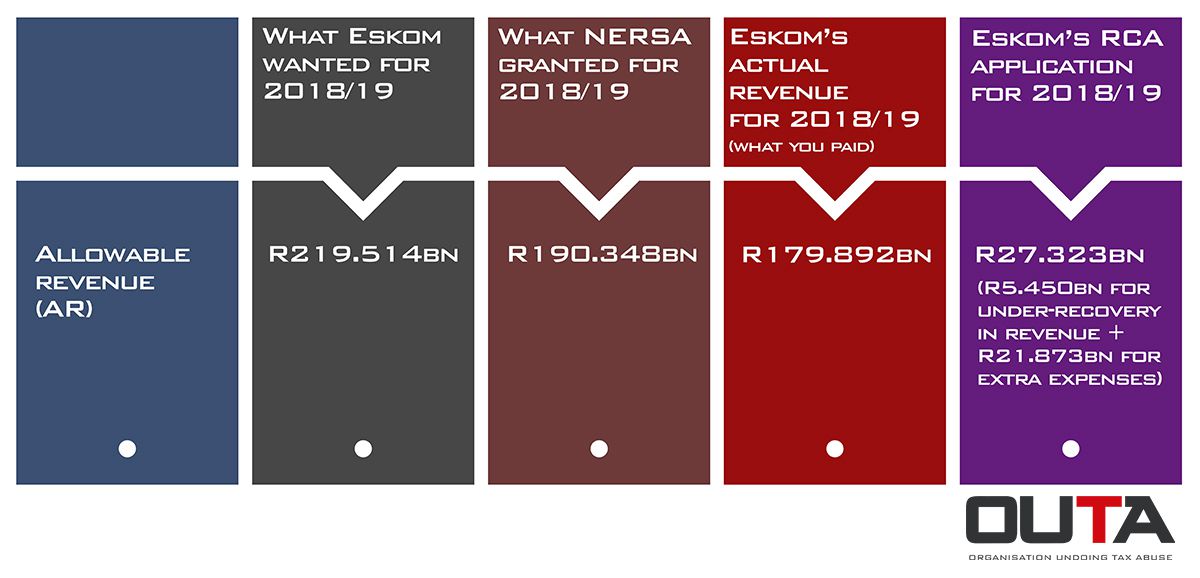 Public hearing dates and venues


| | |
| --- | --- |
| Monday, 3 February 2020, 09:00 – 17:00 | Western Cape: Southern Sun Cape Sun, 23 Strand Street, Cape Town, 8000 |
| Wednesday, 5 February 2020, 09:00 – 17:00 | Eastern Cape: Protea Hotel Marine Drive, Summerstrand, Port Elizabeth, 6013 |
| Thursday, 6 February 2020, 09:00 – 17:00 | KwaZulu-Natal: Olive Convention Centre, 81 Somtseu Road, North Beach, Durban, 4001 |
| Monday, 10 February 2020, 09:00 – 17:00 | North West: Protea Hotel Marriott, 7 Barend & Margaretta Prinsloo streets, Klerksdorp, 2571 |
| Wednesday, 12 February 2020, 09:00 – 17:00 | Northern Cape: Garden Court, 120 Du Toitspan Rd, Civic Centre, Kimberley, Northern Cape, 8300 |
| Friday, 14 February 2020, 09:00 – 17:00 | Free State: Bon Hotel Bloemfontein, Bloem Plaza, East Burger Street, Bloemfontein Central, Bloemfontein, 9301 |
| Monday, 17 February 2020, 09:00 – 17:00 | Mpumalanga: Nelspruit Hotel Promenade, corner Samora Machel Drive and Henshall Street, Nelspruit,1200 |
| Wednesday, 19 February 2020, 09:00 – 17:00 | Limpopo: Protea Hotel Marriott, N1 Northbound, next to Shell Ultra city, Polokwane, 0700 |
| Friday, 21 February 2020, 09:00 – 17:00 | Gauteng: Sierra Burgers Park Hotel, corner Lilian Ngoyi and Minnaar streets, Pretoria CBD, 0002 |
| Monday, 24 February 2020, 09:00 – 17:00 | Gauteng: Midrand Conference Centre, 661 Pendulum Road, Halfway House, Midrand, 0001 |
A copy of Eskom's application and the details for attending the hearings are on NERSA's website
here