OUTA established a Parliamentary Engagement Office in 2017, which observes and interacts with Parliament. Our reports find that Parliament failed to defend South Africa against state capture and looting.

OUTA has published five annual reports on Parliament's oversight of government and the executive, and all five have found Parliament's oversight to be woefully inadequate. In addition, OUTA made a submission to the State Capture Commission on the failure of parliamentary oversight.
Our first oversight report on Parliament was published in May 2019.
In November 2020, we released our second annual report on oversight of Parliament, looking at July 2019 to June 2020.
Also in November 2020, OUTA submitted a detailed affidavit to the State Capture Commission, outlining Parliament's failure to take action to stop state capture.
Our third annual report was published in February 2022, looking at July 2020 to June 2021.
Our fourth annual report was published in October 2022, looking at July 2021 to June 2022.
Our fifth annual report was published in September 2023, looking at July 2022 to June 2023.

We want a Parliament that holds the Executive (the Cabinet ministers) to account and welcomes public participation.
We encourage the public to watch what Parliament does and get involved where possible: make your voices heard.
Details of the reports are below.
WATCH: An OUTA video, How should Parliament work? (5 mins 56 sec) is here.
QUICK GUIDE: Read our October 2023 Tips for MPs update here.
Parliamentary oversight reports: How well does your Parliament work for you?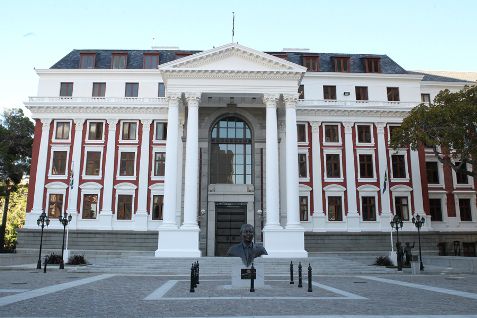 Parliament is devalued when MPs routinely endorse bad governance

OUTA parliamentary oversight reports show up MPs' failure to exercise oversight. OUTA's Parliamentary Engagement Manager from 2017 to 2021, Matt Johnston, explains the oversight failures, commenting after our second report was published in November 2020.
Parliamentary oversight crash-landed with the Waterkloof flight and is still struggling to get off the ground.
On 30 April 2013, the Guptas illegally landed a chartered commercial flight with 200 wedding guests at Waterkloof Air Force Base, underlining their hold over South African authorities and causing public outrage. On 22 May 2013, Parliament held a debate on the landing. But while this was the most significant parliamentary debate in years and resulted in a lot of noise, Parliament did not itself investigate the matter but merely endorsed the official government report – rushed through in about a week and exonnerating the Executive – sent it to the Public Protector and washed their hands of the mess.
This set the tone for the ongoing failure by Members of Parliament (MPs) to provide rigorous oversight.
The MPs' ongoing failure to act decisively over years of government malfeasance meant they effectively aided and abetted state capture.
Parliament was captured, a crucial step in enabling rampant corruption to become systemic.
OUTA's study of Parliament's effectiveness in addressing state capture found that high-ranking ministers routinely dominate parliamentary proceedings and assert their party political authority over their lower-ranking MP comrades. This contradicts the objectivity of MPs and hampers their ability to scrutinise executive decision-making.
Parliamentary committees are where the oversight work should take place, but committees have been eager to absolve themselves of any oversight and accountability duty, even when public outcry and media exposés make it politically difficult to ignore issues completely.
The majority rule is often used to dismiss serious allegations as baseless, irrelevant, false, or misleading. Thus while there are some MPs – mainly the opposition but also a handful of ANC MPs – who work hard to implement real oversight, they are routinely outvoted by the majority, who put the interests of the ruling party over the country.
Poorly defined parliamentary rules or limitations of parliamentary jurisdiction and powers are used as excuses to not deal substantively with such allegations. The rules are broad enough to empower officials to undertake action of significant importance, or nothing at all, with no consequences either way. MPs are free to act in the immense zone of the "permissible but not required" without constitutional constraint. The rules of the National Assembly and the National Council of Provinces do not satisfy the constitutional provision that states they must ensure mechanisms that affect accountability and oversight of the Executive. Political interests and biases in the interpretation and application of these discretionary rules prevent tangible consequences resulting from them.
Recent years are littered with distressing examples of MPs' failure.
After the Public Protector released the State of Capture report in October 2016, Parliament waited nearly a year before deciding to investigate the allegations; even then, not much came of it. Attempts to investigate the collapse of the SABC were met with a minister who simply denied responsibility. An inquiry into the Passenger Rail Agency of SA fell flat after the PRASA board failed to turn up to the parliamentary committee's meetings. The illegal and secret nuclear deal with Russia wasn't overturned by Parliament, but by the high court. The inquiry into the Department of Mineral Resources – and its then minister – and illicit involvement with the Guptas' acquisition of a coal mine floundered when the minister failed to show up. The Portfolio Committee on Communications managed to find that then minister Faith Muthambi should face criminal charges, but instead of taking that further, they merely passed this on to the committee on ethics, which did nothing. The committee looking into Denel's deals with the Guptas mixed up the names of the companies involved. MP Bongani Bongo allegedly offered a parliamentary evidence leader a bribe to torpedo Parliament's inquiry into Eskom three years ago; he remains an MP and the matter is unresolved. That inquiry into Eskom is one of the few matters in which MPs worked together on an in-depth investigation and submitted their report to the State Capture Commission.
MPs show themselves to be uninformed, uninterested, distracted by minor issues and ineffectual. They don't ask the right questions. They don't pursue refusals by officials and minister to answer or even turn up, or challenge their lies.
One powerful sanction which MPs have at their disposal, but fail to use, is control over departmental budgets. Every year the national budget runs through Parliament, with departmental budgets processed by the relevant committees. And every year, whatever critical comments the MPs may make during deliberations, they always sign off on the budget. This is a missed opportunity: programmes which are blatantly corrupt, fail to deliver or deliver at an unreasonable and clearly corrupt cost, should be blocked by MPs. Instead, they are rubber-stamped.
The lack of public trust in Parliament as an institution for the people is partially due to the widely held view that it is ineffective, indecorous, and symbolic, rather than practically willing and able to assure accountability and integrity of ministers and public servants.
The Fifth Parliament allowed state capture to flourish. The Sixth Parliament – which retains some of the disgraced former ministers in influential positions as committee chairs – has a difficult legacy to overcome if MPs are to live up to their oath of office and place allegiance to the country above the party.
Parliament's resources on Parliament
Parliament produces various materials on how it works and what it is doing.
See, for example: