NO CONFIDENCE COUNTRYWIDE PROTESTS

Following on from successful and peaceful countrywide protests earlier this year, Tuesday 8 August will once again be a day when citizens of South Africa take to the streets to convince supporters of parliament to vote out President Zuma.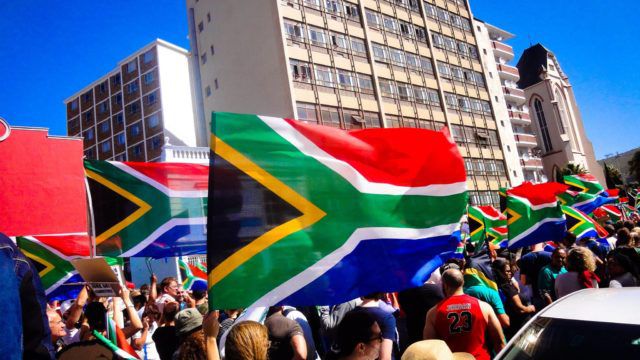 THIS IS HISTORY IN THE MAKING
The vote will take place in the late afternoon – we need to make ourselves heard all day.
OUTA hereby provides input and suggestions for peaceful protests.
LIVE WHATSAPP FEED
Send messages or photos of your protest to OUTA's WhatsApp 0646226856. These will be displayed as a live feed on our website.
PROTESTS & GATHERINGS
Many ask why bother to protest, what's the use, nothing happens. We respond by saying that to protest in one way or another is better than doing nothing. Never underestimate the power of the people.
CAPE TOWN 8 August – Gather at Keizersgracht to march to parliament from 9:30am
ALL OTHER CITIES AND TOWNS – Take leave or ask business to close in solidarity at 12h00. Gather outside your office, at town halls or community centres.
FREEWAY BRIDGES – Make placards or banners, fly an SA flag and join groups on bridges over freeways.
UNITE ON SOCIAL MEDIA – Download the "#NoConfidence" badge here and replace your profile picture on WhatsApp, Twitter, Facebook etc.
PROTEST TOOLKIT
A1 Placard set (5 signs) click to download
Square banner – click to download
Profile badge – click to download
peaceful protest guideline "Protesting – Your Rights"
WHAT TO DO
Organize a "speakers" platform for people to speak
Call on local artists to perform
Bring placards, banners, comfortable shoes, sun protection and water.
PLEASE NOTE; Be responsible. Actions must be non-political, non-racist, non-sexist, peaceful and not disruptive.
KNOW YOUR RIGHTS ON PUBLIC PROTESTS & GATHERINGS:
Our Bill of Rights is internationally admired as a far-reaching affirmation of democratic protest and civil action.
Human Rights do not belong to any arm of government. They belong to people.
It is by concerted citizen action that we hold government accountable to the values and principles of the constitution.
Protests are when 15 or less people meet to express themselves. These are legal and need no approval/authorization. A way to get around the need for approvals is to organize yourselves in small 15 or less groups of friends, family, businesses, communities. If there are more than 15, stand in groups of 15, but separate yourselves by a distance of 100 metres.
Gatherings are groups of 16 or more and require a notification to the authorities. Under these circumstances we believe your Ward Counselor or City Manager may approve if you approach them as soon as possible.
THE RIGHT TO PROTEST IS A CONSTITUTIONAL RIGHT.
"Everyone has the right, peacefully and unarmed, to assemble to demonstrate, to picket and to present petitions". Section 17 of Chapter 2, (The Bill of Rights) from the Constitution of the Republic of South Africa.
Read the following peaceful protest guideline "Protesting – Your Rights" from the Right 2 Know Campaign.