OUTA has laid charges of treason, racketeering, extortion, fraud and forgery against the Gupta brothers and Duduzane Zuma in connection with allegations of state capture.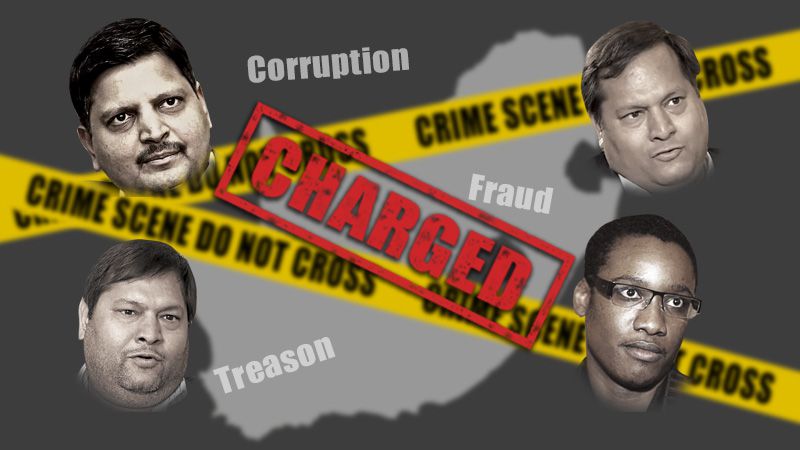 This group is the focus: the three Gupta brothers Atul, Ajay and Rajesh "Tony" Gupta, and Duduzane Zuma, who is the son of President Jacob Zuma.
THESE CHARGES ARE DESIGNED FOR
COMBATING
ORGANISED CRIME
Racketeering involves an ongoing pattern of crime involving serious crime such as corruption, extortion or fraud.
The Gupta brothers and Duduzane Zuma together run a substantial business empire that has been widely linked to illegal state capture, benefitting by billions of rand in illegitimate deals through the help of compliant ministers and state officials.
THOSE NAMED IN THE AFFIDAVIT AS LINKED TO THIS GROUP INCLUDE
Jacinto Rocha, a senior official in the Department of Mineral Resources who helped the Guptas and Duduzane gain lucrative mining rights;
Lakela Kaunda, the Chief Operations Officer in the Presidency who has worked in the Presidency since 2009 and for Zuma since 2000, and was involved in a Gupta attempt to buy Ubank;
Gloria Bongi Ngema-Zuma, one of the President's wives: in a hidden transaction, the Guptas helped buy her a R5.4 million house in Waterkloof Ridge in Pretoria;
Duduzile Zuma, the twin sister of Duduzane and the President's daughter, who spent 13 months as a director of a Gupta company, appointed when it was clear her father would soon be President;
Iqbal Sharma, the chair of Transnet's Acquisitions and Disposals committee when train deals were signed, who shared confidential documents with the Guptas;
Brian Molefe, former CE of Transnet and then Eskom, a good friend of the Guptas;
Anoj Singh, former CFO of Transnet and current (suspended) CFO of Eskom, who had paid excursions to Dubai at Gupta expense;
Mogokare Richard Seleke, Director General of Public Enterprises, the cut-out who passed confidential information from Eskom to the Guptas, inserted himself into state-owned entities' deals and helped the Guptas buy a coal mine cheaply;
Mosebenzi Zwane, Minister of Mineral Resources, who helped arrange the Waterkloof wedding landing and cost South Africa about R2 billion which went to the Guptas from a dairy project and the disappearance of two mine rehabilitation trust funds;
Faith Muthambi, Minister of Public Service and Administration, who, as Minister of Communications, shared confidential Cabinet information with the Guptas and appointed her compliant friend Hlaudi Motsoeneng to help their broadcasting interests;
Collin Matjila, who served on Eskom's board and was in business with Gupta associates;
Minister of Public Enterprises Lynne Brown, who made various appointments, including to SOE boards, which were favourable to the Guptas;
Ben Ngubane, the former chairman of the Eskom board who was in business with Gupta associates;
Mark Pamensky, an Eskom director who was in business with the Guptas.